A Local Source for Quality Gourmet Peanut Products
America's Best Nut Company - It's a Family Thing, In a Firehouse
Husband and wife team, Jack Lawrence and Betsy Owens combined their love of peanuts with their production and marketing knowledge to create America's Best Nut Company in 2003. Their goal: to create a company dedicated to delivering the highest quality, best tasting peanut products and to provide unparalleled customer service. "Our focus remains on that goal," she says.
Housed in a former fire station, America's Best Nut Company's peanuts are roasted where fire trucks once parked, they're canned and shipped from the firemen's former dormitory. What was once the firemen's living area now houses the office and retail sales area. Betsy says, "It's perfect for our needs – overhead doors for shipping and receiving, and the brick and tile offer easy upkeep. Frequently we have firemen customers who previously worked here. They say they enjoy knowing the firehouse's current use. (Note: This facility became available when a new one had to be built to accommodate both women, as well as men firefighters.)
After retiring from the textile industry, Jack said he wanted something to do other than be Betsy's yardman. Betsy was working in the peanut industry and introduced Jack to the Virginia-type peanut, which is the largest peanut grown in the nation. He loved the peanuts and loves cooking, so he started experimenting with roasting these super extra-large kernelled peanuts, refining the process until he got it "just right". That meant creating a product like the ones prepared in the kitchens of peanut plantations in colonial days. The resulting "blister roasted" lightly salted (and unsalted) Southern Homestyle Gourmet Peanuts became America's Best Nut Company's first product. Illustrating the "southern home" aspect of the product name, the label features Jack and Betsy's Greek Revival home which is on the National Register of Historic Homes.
At the suggestion of some customers who are sea salt fans, the product line expanded to include SeaNuts: The super extra-large "blister roasted" peanuts seasoned with premium mineral-rich sea salt. About a year later, Bee Line Honey Roasted were added. They are glazed with pure honey, lightly dusted with sugar, and a dash of salt. The light coating serves as an accent allowing the peanut flavor to come through. America's Best is located near the railroad and the City of Rocky Mount has a railroad track through the middle of town, thus the idea of the Bee Line brand.
America's Best most recent product addition, Wingnuts are flavored with smoky, spicy barbecue seasoning. The recipe is proprietary so no one else has a product just like it. Wingnut lovers describe them as a "beverage nut" — the perfect companion to your favorite drink (from lemonade to beer and all in between). "They make your taste buds take flight", they say, prompting the name and the airplane on the label.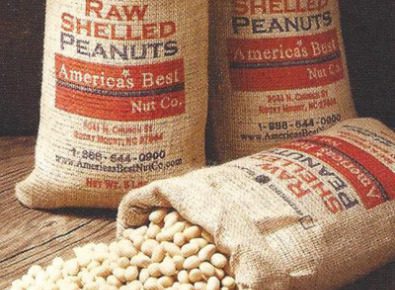 For the home chef, America's Best offers Raw Shelled Redskin Peanuts (only the outer shell has been removed) and Raw Blanched Peanuts (the thin redskins are removed). All are the super extra-large kernels. They are ideal for home roasting, candy making, to use as an ingredient for adding protein and flavor to vegan and vegetarian dishes. Great too to add crunch, flavor, and nutrition to meat and vegetable dishes, such as those with an Asian flair.
New products are added only after careful deliberation and testing. Currently, the company is working on new products to be added to the lineup soon. The new products will continue America's Best tradition of "all-natural" which compliments the inherent nutrition pluses of peanuts including they are gluten-free, naturally cholesterol-free, contain healthy polyunsaturated oils, are a good source of plant protein, contain fiber, and are rich in vitamins and essential minerals, plus they are non-GMO. *
In addition to being available online: www.ab-nc.com, America's Best Nut Company's Gourmet Peanuts are in select specialty stores and at the Company Factory Store at 3041 North Church Street, Rocky Mount, North Carolina.
Store hours are M – F 10:00 AM to 5:30 PM Eastern Time.
Let us hear from you, toll-free: (252) 454-0900, we welcome your questions and/or comments. Further information detailing peanut nutrition research is available on The Peanut Institute website: http://www.peanut-institute.org/,
Allergy Statement
America's Best Nut Company only processes peanuts so there is no opportunity in our facility for cross-contact with tree nuts.
Our Mission
To deliver the highest quality peanut products and provide unparalleled customer service.